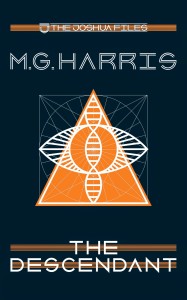 THE DESCENDANT is M.G. Harris's first novel, written before she wrote THE JOSHUA FILES, and published for the first time in May 2012.
Buy THE DESCENDANT (in English) paperback on Amazon





Download the KINDLE version (in English)





Plot summary
Molecular genetics research student, Jackson Bennett is astonished when the colleague he's meeting at Mexico City airport is led away by the authorities, only to disappear. Escaping, Jackson discovers that he's been passed a mysterious test-tube containing the missing scientist's final, coded message.
With the help of Mexican archaeologist, Dr. Marie-Carmen Valencia, Jackson must now solve a puzzle which begins with an enigmatic DNA code and ends with a long-forgotten ancient burial chamber in Iraq. The two young scientists are dragged into a race to unlock human powers so ancient that the memory of them exists only in the human genome.
THE DESCENDANT is a techno-thriller set in the world of the international, best-selling young-adult series, THE JOSHUA FILES, also by M.G. Harris.
The Descendant by M. G. Harris –  download an excerpt
Book Trailer
History
You may have read about how MG Harris began her writing career after a skiing accident left her with a broken leg – well this is the very book that MG wrote, on a laptop, sitting on the edge of a bed.
"Once I started writing, all the pain of the operation and all the misery of not being able to walk, just disappeared. I spent at least ten hours a day writing and researching THE DESCENDANT, hoping it would launch my career as a novelist. When it was rejected by the first bunch of literary agents I sent it to, I decided to shelve the project and start on another story that had occurred to me whilst writing THE DESCENDANT.
It was initially going to be titled THE FIFTH CODEX, and would be the story of how a young archaeologist found a Mayan codex. That story eventually became THE JOSHUA FILES, and was set in the same fictional world as THE DESCENDANT and featured some of the same characters – a world where ancient secrets were waiting to be discovered, where the Mayan prophecy of doom in 2012 was all too real.
Now that I've completed THE JOSHUA FILES's story of Josh and the Mayan apocalypse, I thought readers might like to see where this all began. So I went back and whupped the manuscript for THE DESCENDANT into shape, with the help of former JOSHUA FILES editor, Polly Nolan.
It was a huge amount of fun to revisit my first novel, an action-packed, twisty thriller that combines, biotechnology, archaeology and mythology. It took my mind away from what I was going through in Jan 2005, and I hope it will transport readers in just the same way."
For updates, please visit and LIKE THE DESCENDANT facebook page