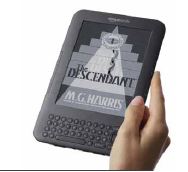 Sneak a peek at some of the early artwork for MG Harris's soon-to-be-published techno-thriller which extends the world of THE JOSHUA FILES. Even Josh Garcia sometimes wondered who else knew about the mysterious ancient Erinsi civilisation. Who knew what, when did they know it, and what happened?
Find out by reading an early excerpt from THE DESCENDANT.
More about THE DESCENDANT.