Perhaps THE JOSHUA FILES is the first time you've come across the Mayan culture used as part of a piece of popular entertainment.
But over the years in fact, the Maya have cropped up as the inspiration for many an exciting adventure story…
Back in the 1930s, the heyday for adventure movie serials, even Tarzan had a Mayan-themed encounter!
So with the help of MG's uncle from Mexico, comic book and pulp fiction expert Johny Herrero, here are some of the earliest remembered uses of the Maya in movies and comic books.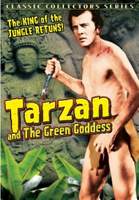 "Tarzan and the Green Goddess."
Johny remembers:
"It is a late 1930's chapter serial (12 episodes). The Tarzan role was played by Herman Brix (Bruce Bennet). Tarzan is an educated man who travels to Guatemala to help a friend captured by the Mayans. Also, he accepts a request to help in the search for the lost Green Goddess, an idol with jewels and a formula for a powerful explosive.The Mayan city is ruled by queen Maya, who captures Tarzan. I remember a sophisticated Tarzan in some kind of Gypsy clothes in the last chapter."
Doc Savage At 75
Johny remembers:
Oh, my God, the thought just popped up in my mind! Doc Savage is practically as old as I am. Doc Savage is 75. Doc Savage Magazine (a pulp magazine) appeared on the newsstands in February, 1933. Time really flies!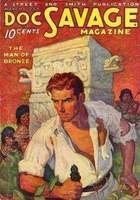 I discovered Doc Savage as a kid. An Aunt of mine had taken me to a candy/gift store near home, where I saw four or five different issues of Doc Savage Magazine.
Wow! I was instantly hooked by those magnificent covers… and that was the beginning of my long relationship with Doc Savage.
I read a reprint of the first Doc Savage magazine back in 1965, in, where else but, New York City. What a place to read this novel!
The first novel of the series, The Man Of Bronze, introduces Clark Savage Jr., better known as Doc Savage, and his five aides .
The story begins in New York City, upon Doc's return from his secret hideaway (The Fortress of Solitude) near the North Pole to his headquarters in the 86th. Floor of a New York City skyscraper. There, his five aides tell him about the death (he was murdered) of his father under mysterious circumstances. As Doc is trying to figure out what to do next, a Mayan warrior starts shooting at them from another skyscraper. The Mayan warrior kills himself immediately after being captured by Doc. A secret message from his father, tells Doc that there are important papers for him in a hiding place at a site called The Valley Of The Vanished, in the nation of Hidalgo, in Central America. Doc Savage and his aides, after encountering many problems, arrive at The Valley Of The Vanished, where a tribe of Mayans have lived for many years , hidden from the outside world.
Doc unravels the secret behind his father's death (murder), battles the villain Kukulcan, and takes possession of a fabulous treasure given to his father by the Mayans.
I think that the cover of this first issue of the magazine depicts a scene during the final battle against the villain Kukulkan, when Doc Savage and his friends take shelter in a large pyramid in the village where the Mayan treasure is stored.
Doc Savage was very popular: many kids, teenagers (and adults too, I guess) used to read it religiously every month. There were 181 issues of the magazine, the last one published in 1949. Also, there were comics and radio programs.
Doc Savage was a pulp hero who influenced the creation and/or characteristics of some future comic book heroes: Superman (Clark savage/Clark Kent, Fortress of Solitude near the North Pole); Batman (utility belt, etc.); The Fantastic Four, etc.
Happy 75th anniversary and many thanks for all the great reads, art, and memories, Doc Savage!
"Uncle Scrooge Adventures – Crown of the Mayas"
MG remembers: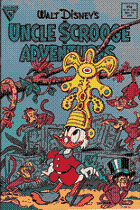 I started reading Carl Barks's Uncle Scrooge Comics when I discovered a huge leather-bound collectors' edition in my father's study and started reading it to my little sisters for their bedtime stories.
Carl Barks created the character of Scrooge McDuck back in the 1940s. Scrooge McDuck was an old-school American capitalist in the grand mould; self-made billionaire who'd made his money the old-fashioned way – panning for the gold in the Yukon, investing in railroads and early business ventures. But in his later years, McDuck is only interested in three things: protecting his fortune, preserving his totemic Number One Dime – the first money he ever made, and going on exotic adventures to find rare artefacts. McDuck comes across most well-known ancient cultures at some time.
In "Crown of the Mayas" a chance landing in the Yucatan leads to Scrooge and his nephews going in search of a lost golden crown of the Maya. It's not the very best Carl Barks story but does reflect Barks' own interest in the Maya. For once in these stories the research is actually quite up-to-date – probably based on a National Geographic article that Barks might have read.
"Mystery of the Ancients – Early Spaceman & the Mayas" by Eric and Craig Umland
MG remembers: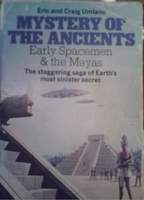 This is it! The little paperback book I bought when I was 15 years old, on holiday in Yucatan. I'd spent the day with my family in the suffocating heat of the ruins at Chichen Itza. It had been an eventful day – I'd almost had a panic attack from claustrophobia inside the pyramid, a vertigo attack just fifteen steps up the main pyramid, and my sister had passed out in the nasty bathrooms, from heat and sunstroke. Plus we'd driven there and back along dusty roads, in a car without air conditioning. (It was the olden days! Don't let anyone tell you how great they were – they could be pretty uncomfortable too…)
I sat on the beach as the sun went down and read this fascinating piece of 'non-fiction'. I'm afraid that as evidence-based narrative it was really not very good! But back then I had very little idea how to evaluate information that was presented as 'fact'. It was actually incredibly speculative, said really cool stuff – that the Maya might have come from Atlantis and even further back, from another planet! That the explorer John Lloyd Stephens had actually witnessed Mayan television technology and written about it in his famous book, "Incidents of Travel in Yucatan". (I've yet to find the relevant passage, sadly…) That there were mysterious geophysical phenomena lurking within the Loltun caves and lava tubes which honeycomb the Yucatan peninsula.
This book planted the seed, that night in Cancun; the idea that finally took hold inside me as 'THE JOSHUA FILES'.
And finally, more recently two comic book series feature Mayan mythology and symbols in their storylines.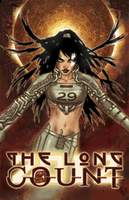 From Dark Horse Comics by Franciso Ruiz Velasco, Battle Gods: Warriors of the Chaa'k in which "The worst has happened: the powerful, ancient Mayan gods have awakened, and they are not pleased!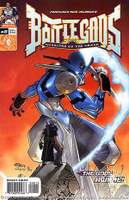 And coming soon from Archaia Studios Press is the Mayan cyberpunk title The Long Count. It's a 12-book issue that we'll be watching out for ourselves…about a soccer-playing Hispanic girl, Carmen Sandoval, whose destiny it is to bring about the Mayan prophecy of apocalypse at the end of 2012…